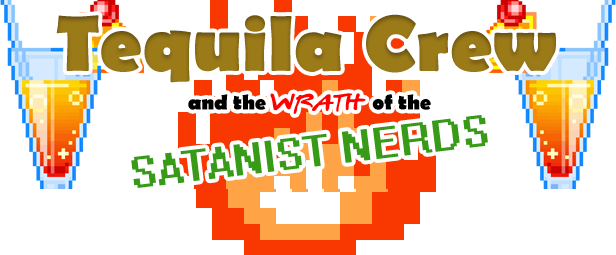 Tequila Crew and the Wrath of the Satanist Nerds
A downloadable game for Windows
ADVENTURE AWAITS AT EVERY CORNER!

Guide one of nine alcoholic, good for nothing students on an adventure across the weirdest, craziest, and probably most dangerous university in the entire world! Choose your main character and make your own choices, build your personality and see the story change based on everything you do.

STORY

You, one of nine playable characters, arrive at Pijaracuba Island, a very small island but very famous due to its acclaimed university, Pervert Bunny College. There you meet Rosalina, a young girl full of energy and the will for adventure. Together you will make new friends (or enemies), explore the university and the island, get yourself involved in crazy adventures and enjoy the college life. Or will you? When an unknown and extremely weird threat rises from the ground, the Satanist Nerds who want to rule the world, can our heroes stop them or will they perish together at evil's hand? It's your story! Make it unfold with your own choices!


FEATURES - DEMO

CHARACTER SELECT - Choose one of nine main characters and see the story adapt to each one of them! Most of the time you'll be the one doing the talking for them, but at special cutscenes you'll get to see their own personality unfold and learn more about who you chose!

MISSIONS - Mission-based gameplay! Not feeling like following the story right now? Then just don't start a new mission! Do what you want whenever you feel like doing it!

CHOICES - Choose what to do and what to say! Most of the time you'll be choosing what your character says. Normally it'll just change the conversation and provide more or less information, but also at many times it can change the outcome of future events! Who lives, who dies, what is going to be your next mission, it all depends on who you are and what you do!

NO GAMEOVER - The game is never over! If you die fighting against regular enemies you'll simply wake up at the last acessed safehouse. Die fighting story encounters and the story will adapt and move on! The fate of our heroes is on your hands!

ALLIES AND RESPECT - Throughout the game you'll make up to eight allies. How they threat you is entirely up to you! A respect gauge for each ally is available to check any time. Keep their respect up by succeeding at the missions they give you and making choices they approve, or bring it down and see your friends become your enemies in front of you!

FAILURE - Many missions can be failed! Just like everything else, the story will adapt and move on!

DAY CYCLE - Time moves on as you play! Different times of the day are required to start certain missions or witness certains events!

CONCLUSION

I really do hope you like my little game! It's at a very early stage so please report any bugs you may find. I have tested it as much as I could with all characters but some things might slip through. Feedback is very important! Any opinion or comment about the game is welcome!

Thank you very much!

Install instructions
Click the link and you will be taken to the online demo page.